Visit
We are thrilled to have you join us. We have two Sunday worship services, each about 1 hour in length. The services are unique, but the pastor's message will be the same at each.
9:00 am Modern Service in the Sanctuary
10:45 am Traditional Service in the Sanctuary
Both Services Livestreamed at https://firstpresmaumee.online.church/ and on Facebook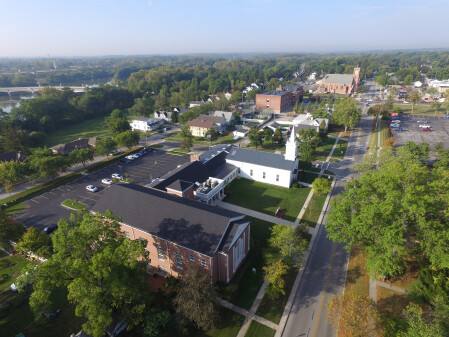 Are there any other ways to join in worship?
Yes! We offer both services via livestream on our platform, firstpresmaumee.online.church. Worship will continue to be livestreamed for both the Modern Service at 9:00 am and the Traditional Service at 10:45 am. Services are now also streamed on Facebook.
WHERE DO I PARK?
First Pres Maumee has a large parking lot accessible by Gibbs Street right off Broadway. There are a number of handicap-accessible parking spaces close to the church as well as an elevator right inside the doors. There is plenty of street parking in front of the church along Broadway as well.
What is in-person worship like?
Modern Worship: At 9:00 am in the Sanctuary, we offer modern music, Scripture, multimedia, prayer, and preaching as a means to create space for us to encounter God and experience the transforming power of the Gospel. We strive to be inter-generational, innovative, intentional, interactive, and intimate. Doors for this service open at 8:40 am.
Traditional Worship: At 10:45 am in the Sanctuary, we offer traditional hymns and anthems, with a wide range of sacred music led by our chancel choir, handbell choir, and 2161-pipe organ. Worshipers of all ages are welcome. Doors for this service open at 10:25 am.
Both services are also live-streamed on our church online platform at https://firstpresmaumee.online.church/. The Modern Service streams live at 9:00 am, and the Traditional Service is streamed live at 10:45 am.
what children and youth programs do you have on Sundays?
Children's Church is offered during the 9:00 am Modern Worship service, for children ages 4 through 5th grade in our children's wing downstairs. Our upstairs nursery will be available for children from birth through 3 years old.
During the 10:45 am Traditional Worship service, children from Birth through Kindergarten are welcome in the Nursery. There is no Children's Church during this service, however materials such as coloring books, and crayons will be available during worship.
Children are always welcome to stay in the Sanctuary! We also offer a more relaxed atmosphere for families who want to worship by watching the service together on a large screen in Fellowship Hall downstairs. Children's bulletins and crayons are available in this location.
What if I have specific needs?
If you have any requests or questions, we encourage you to seek out a pastor, usher, or volunteer. Assisted listening devices are available during the Traditional Service in the Sanctuary. Large print bulletins are also available. Just ask an usher and they will assist you. Both of our worship service spaces are handicap accessible.
What do I wear?
You will find people who prefer casual, dressy, and business attire, so the chances are that you will find folks that are dressed like you are at either service.
Where do I go once I am there?
The Modern Service and the Traditional Service are on the second floor, in the Sanctuary. You can choose to sit on the main floor or in the balcony.
Current COVID 19 Worship & Gathering Guidelines

For Worship:
Masks are optional for worship on Sundays
The sanctuary balcony will continue to serve as the place where masks are required.
For Children's activities:
If you have additional questions, please contact us.