Students
STUDENT MINISTRY AT FIRST PRES MAUMEE
Our Student Ministries exist because we believe it is critical that students, in grades six through twelve, explore their faith in Jesus Christ as they seek to understand their place in the challenging world around them. We provide a welcoming place, where disciples of Christ are formed. Through the study of God's word and meaningful personal relationships, students are inspired to go and serve others in Christ's name.

At First Pres Maumee, we believe that our Student Ministries create an atmosphere for students to learn not just about their faith, but about life skills. We strive to teach Scripture alongside creating an open, invitational culture; new students and friends are always encouraged and welcomed. Our Student Ministries are a place for students to ask questions and learn from their peers. We welcome those tough questions and challenging perspectives.
Though much of our Student Ministry activities are housed at First Pres Maumee, we love to work outside of our community by serving at our mission partners or collaborating with other local youth groups. Our students also leave First Pres Maumee for day trips, food, and retreats. You can read more about what our students are involved in below in the "Students" tab.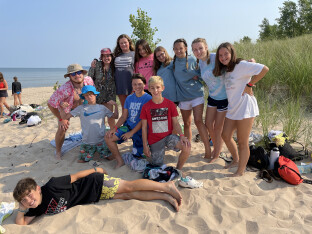 Our Student Ministries are housed on the third floor of First Pres Maumee. We have a Student Lounge and two classrooms. Simply take the elevator located by the parking lot entryway or use the stairs near the Broadway Street entryway to reach the third floor.
Want to know more about our Student Ministry? Landon Rohrer, our Student Ministry Leader, is always willing to meet newcomers or reconnect with families who've been here for years. You can contact Landon at or by calling (419) 893-0223 ext. 109.
Students
Interested in getting involved in our Student Ministries at First Pres Maumee? Check out some of the things you could be involved in below!
Bible Study
High School Bible Study
Senior High students gather Tuesday nights from 7:00-8:30 pm in the Youth Lounge.
Junior High Youth Group (Grades 6-8)
Junior High students gather from 6:15-7:15 pm on Wednesday nights for Bible study and fellowship in the Youth Lounge.
Youth Jams
All students are encouraged to bring a musical instrument or their singing voice to play and sign worship music once a month. Exact dates and times will be provided in the weekly Student Ministry Update email.
Weekend Gatherings
Once a month, we plan to host a game night or activity outside, and are considering a day trip during the fall months. More information will be provided in the weekly Student Ministry Update email.
Mission Activities
Every 4 to 6 weeks, we will partner with our local ministry partners in a service project. Exact dates and times will be provided in the weekly Student Ministry Update email.
Students serve with many of our ministry partners, including Mosaic Ministries, Swan Creek, and Maumee City Schools. There are also opportunities throughout the year to serve in other ways in the church.
SOCIAL EVENTS
Students participate in a variety of social events throughout the year. These include laser tag, bowling, ice skating, or attending Student Ministry events, like the Winter Jam concert in Michigan.
RETREATS & CAMPING
We have many Student Ministry Retreats happening throughout the year. Some of our retreats include Surf City, Wyldlife Camp, and seasonal Senior High Retreats. Please note that retreats and camps may be delayed or cancelled due to the Coronavirus.
Surf City
Every summer, students from upcoming 5th graders to upcoming 8th graders take part in Surf City. This is a week long summer camp in at Grace Adventures in Mears, MI. The camp features a private beach, wave runners, horseback riding, worship, and much more. Surf City is also a place for students to explore their faith and develop new, deep relationships with their peers.
wyldlife camp
Although we're not participating in Wyldlife Camp this year, it's a time for middle school students to play games, try new things, eat delicious food, and spend time making memories with their friends and leaders from home.
Senior High Retreats
In both the winter and summer of each year, senior high students go away for a weekend to get away from the world, spend time with their friends, make memories, and grow in their faith and relationship with the Lord. These getaways are always fun and relaxing for our students.
Senior High Work Camp
Each summer, the high school students serve others in Jesus' name by doing home painting and repair, through Group Mission Trips, in various communities in our region.
CONFIRMATION
We use the PCUSA's Big God, Big Questions curriculum for Confirmation. It is focused on preparing youth to authentically answer the traditional membership questions:
- Trusting in the gracious mercy of God, do you turn from the ways of sin and renounce evil and its power in the world?
- Who is your Lord and Savior?
- Will you be Christ's faithful disciple obeying his word and showing his love?
- Will you devote yourself to the church's teaching and fellowship, to the breaking of bread and the prayers?
Big God, Big Questions equips students to employ the study of Scripture, tradition, and church, to tell their own story as Christian believers in the context of their local congregational experiences. Youth in grades 7-12 are invited to participate in this rich experience of faith formation.
Confirmation is a special time in the lives of the youth. If they were baptized as infants, the students learn what it means to confirm the vows their parents made for them at baptism. For others, it is a time when they decide to be baptized and make the vows of the faith for themselves.
Parents
We believe when parents and other adults within our church family get involved with our students, it benefits them mentally, emotionally, and spiritually. We love having not just our Student Ministry team, but our parents get active and involved in our Student Ministry.
Volunteering
Volunteers are welcome at many of our Student Ministry activities: from social events to bible studies, we're always looking for parents or other adults.
If you're interested in volunteering, reach out to Landon Rohrer at or by calling (419) 893-0223 ext. 109. Volunteering is open to anyone interested in supporting our Student Ministries!
SCRIP PROGRAM
Fundraising for student ministry programming and mission opportunities is done in part through our church's SCRIP Program. Please support our youth through SCRIP.
newsletter
If you're new to our Student Ministries, welcome! We are so glad you are here. We recommend you sign up to our Student Ministry Newsletter to get the latest details and information on Student Ministry events, tips, and lessons. Sign up for the newsletter below.